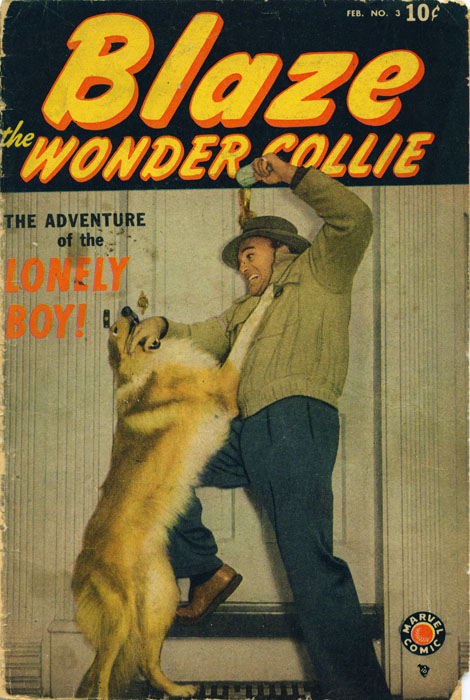 Portada
-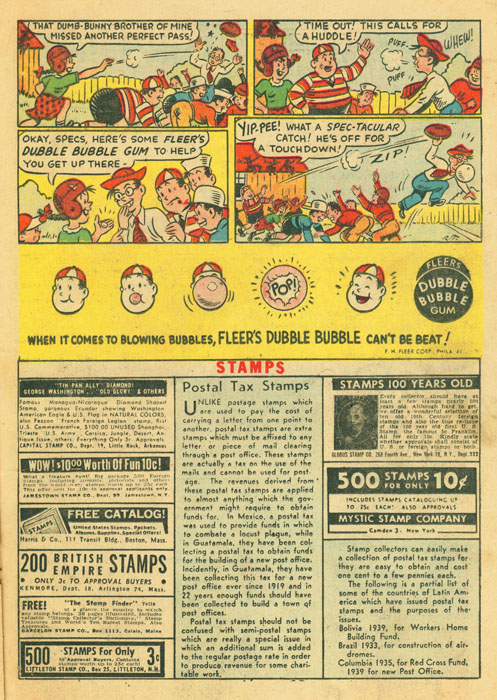 When it comes to blowing bubbles, FLEER'S DUBBLE BUBBLE can't be beat!
Ray Thompson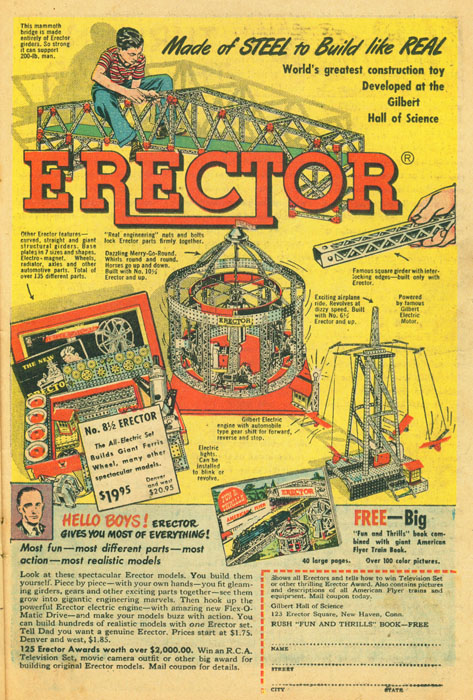 Erector
-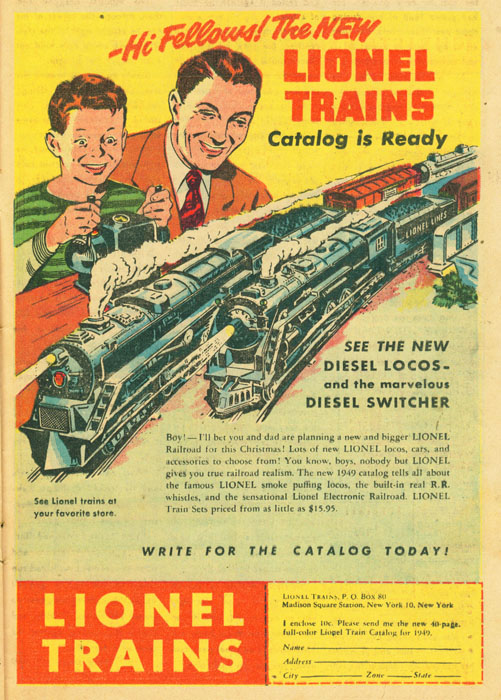 -Hi Fellows! The New Lionel Trains Catalog is Ready
-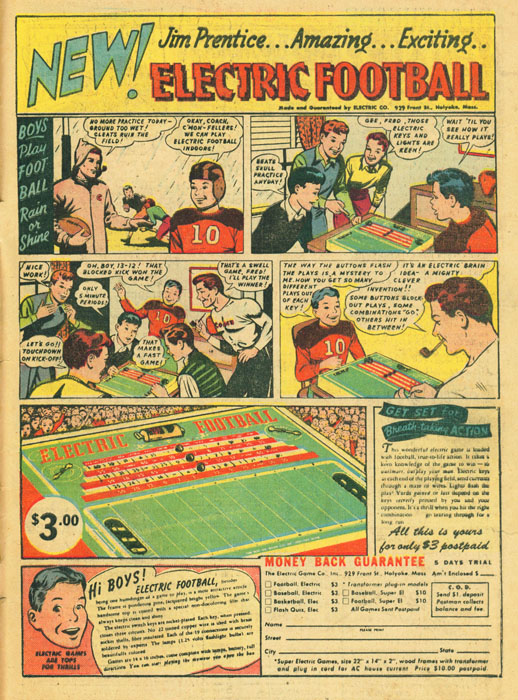 New! Jim Prentice... Amazing... Exciting... Electric Football
-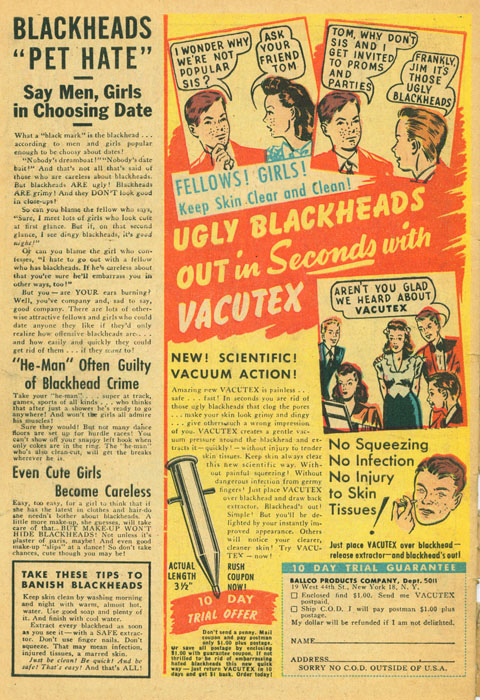 Ugly Blackheads Out in Seconds with Vacutex
-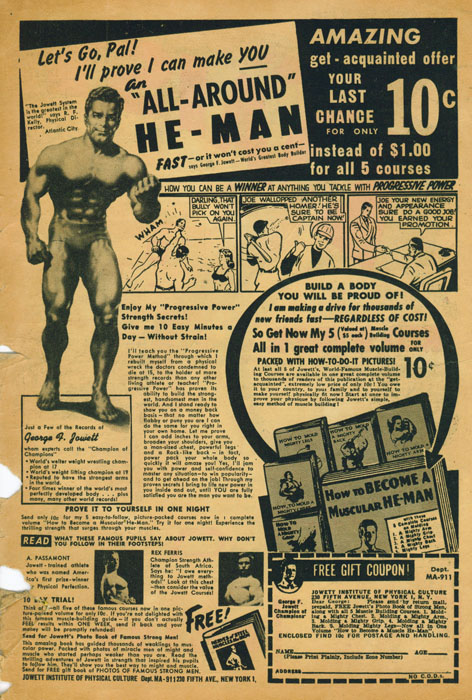 Let's Go, Pal! I'll Prove I Can Make You an "All-Around" He-Man
-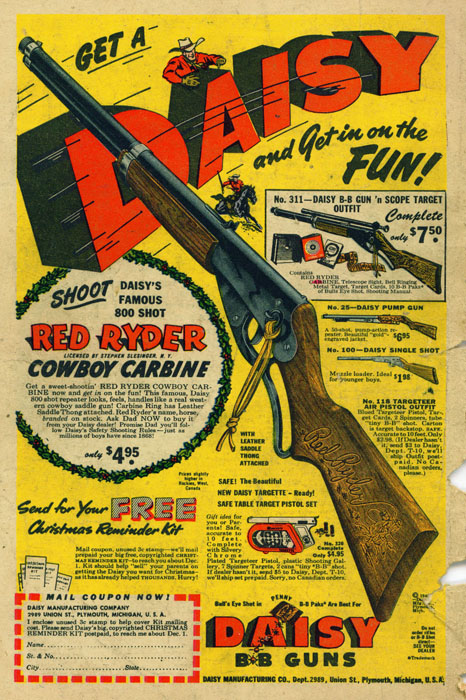 Get a Daisy and Get In On the Fun!
-
Datos Generales
Índice

Febrero 1950
Grapa
17,3 x 25,8 cm
Color
10¢
32 Páginas + cubiertas
Editor
-
Título del Cómic
The Adventure of the Lonely Boy!

Este número contiene 2 historias:

The Adventure of the Lonely Boy! (18 págs.)
Bear on a Spree! (5 págs.)

Comentarios de la edición

Incluye el relato "Turn in the Road" de 2 páginas. Job number 5650.
Entre los diferentes contenidos publicitarios que ofrece este número se encuentra "When it comes to blowing bubbles, FLEER'S DUBBLE BUBBLE can't be beat!", con la particularidad de que es un cómic obra de Ray Thompson que publicita unas gominolas.
Entre los diferentes contenidos publicitarios que ofrece este número se encuentra "Erector", con la particularidad de que es una ilustración de autor desconocido que publicita juguetes de la marca Erector, incluyendo un cupón para realizar la compra por correo.
Entre los diferentes contenidos publicitarios que ofrece este número se encuentra "-Hi Fellows! The New Lionel Trains Catalog is Ready", con la particularidad de que es una ilustración de autor desconocido que publicita un tren de juguete, incluyendo un cupón para solicitarla por correo.
Entre los diferentes contenidos publicitarios que ofrece este número se encuentra "New! Jim Prentice... Amazing... Exciting... Electric Football", con la particularidad de que es un cómic de autor desconocido que publicita un juguete.
Entre los diferentes contenidos publicitarios que ofrece este número se encuentra "Ugly Blackheads Out in Seconds with Vacutex", con la particularidad de que es un cómic de autor desconocido que publicita un medicamento contra las espinillas.
Entre los diferentes contenidos publicitarios que ofrece este número se encuentra "Let's Go, Pal! I'll Prove I Can Make You an "All-Around" He-Man", con la particularidad de que es un cómic de autor desconocido que publicita un libro sobre un programa de bodyescultura, incluyendo un cupón para realizar la compra por correo.
Entre los diferentes contenidos publicitarios que ofrece este número se encuentra "Get a Daisy and Get In On the Fun!", con la particularidad de que es una ilustración de autor desconocido que publicita escopetas de aire comprimido.




"The Adventure of the Lonely Boy!"
Equipo Creativo
Guión
Lápiz
Tinta
Color
Rotulación
-
-
-
-
-
Detalles
Protagonistas
Blaze
Personajes Secundarios
-
Personajes Invitados
-
Enemigos
-
Comentarios de la historia

Posible dibujante Bill Walsh. Datos tomados de Grand Comics Database (GCD) (www.comics.org).
Job number 6249

Sinopsis
-

| Ediciones Españolas | Reimpresiones |
| --- | --- |
| | |




"Bear on a Spree!"
Equipo Creativo
Guión
Lápiz
Tinta
Color
Rotulación
-
-
-
-
-
Detalles
Protagonistas
Diablo
Personajes Secundarios
-
Personajes Invitados
-
Enemigos
-
Comentarios de la historia
Sinopsis
-

| Ediciones Españolas | Reimpresiones |
| --- | --- |
| | |